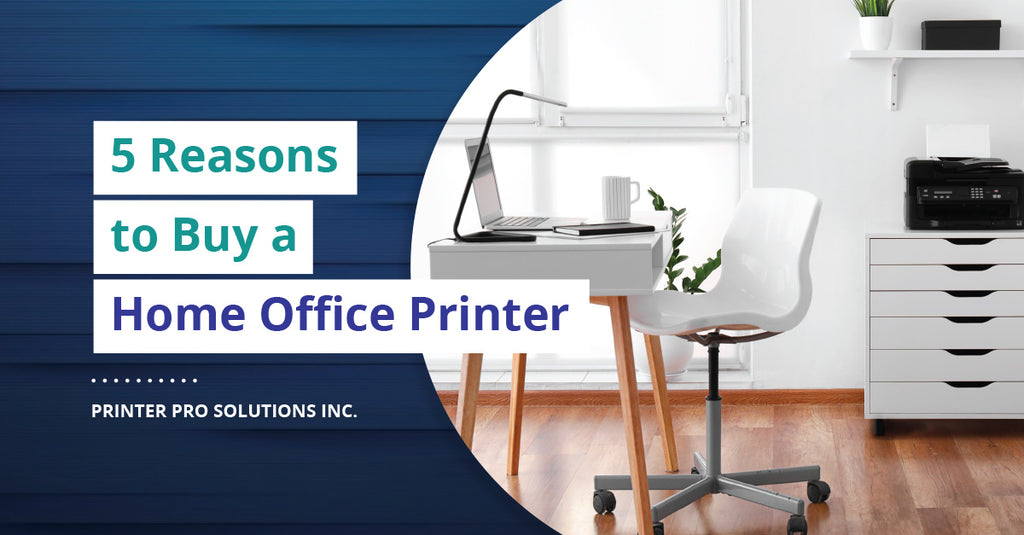 Why You Need a Printer for Your Home Office
Thu Nov 03, 2022 | Printer Pro Solutions
---
Are you considering buying a home office printer? Now is a great time for it! Home offices are now more popular than ever with the recent boom in hybrid working. They're convenient and comfortable spaces where you can get your work done just as productively as you can in the office. In fact, some people argue that they're even better than in-office spaces! You get all the creature comforts of home, while still feeling connected to your team via your technology.
The devices you use play a vital role in completing your tasks and collaborating while working remotely, and that includes your home office printer. The right device can connect you to your teammates and help you meet your goals. 
Having a printer in your home office has many perks, and we have five good reasons why you need one.


1: Stay Focused and On Task
You might think that reading important documents on your computer or phone will be just as effective as paper, but you'd be wrong. 
Evidence collected found that people comprehended texts better when reading physical documents. In fact, one study of 171,055 readers even found that the advantages of paper-based reading increased "when a reading time limit is imposed" (Science Direct). So, even if you're in a rush or on a time-crunch to meet deadlines, it's still better for you to print off your documents to read.
Having a home office printer for printing documents could decrease the risk of missing important details and increase your successful completion of tasks!
 
2:  Collaborate Using the Cloud
One of the main concerns of organizations trying to decide whether to be a hybrid workplace is collaboration. It's a valid concern, since team collaboration is one of the fundamental elements of success for any company. Feeling connected with your coworkers is important, as "97% of employees and executives surveyed believe a lack of alignment within a team directly impacts the outcome of a task or project" (Forbes).
To better align your goals with your co-workers, look for a home office printer that has cloud capabilities. You'll be able to upload documents, send them between offices, and share important information across networks. This will connect people who are working from home and in-office, ensuring collaboration doesn't falter in your hybrid work model.


3: Effective Time Management
We've all procrastinated before. But too much procrastination can ruin important projects. To avoid falling behind on your work and to meet deadlines while working from home, it's essential to have all the necessary tools. One of those is an all in one printer!
A deciding factor for buying a printer or not could be finding the space for it. But luckily there are many printers that can be neatly arranged on a desk, in a cubby, or on top of a shelf. We've talked before about how to choose the right all in one printer, and that a smaller print device can easily fit in your home office. Having an all in one printer is essential for meeting deadlines and effectively managing your time.
Helpful features on an all in one printer include:
Scanning

Printing

Copying

Faxing

Cloud Connectivity

AirPrint

and Document Editing

These will also help you avoid procrastination pitfalls. Things like, "I can't assist with that task anymore because I have no means to connect with my team." or, "I can't scan that at home. So, I guess it will have to wait until tomorrow." With every office feature available to you at home, you'll avoid missing deadlines, or putting off your printing needs until you're in-office again. You'll have the flexibility to work as you need, complete your tasks, and achieve your team's goals, all while working from home.
4:  Smart Contingency Planning
Keeping paper documents around can help not only with comprehension and time-management, but it can also mean avoiding disaster. There are many things beyond our control while working, including technology malfunctions or power outages. 
When these things do happen, you might find yourself scrambling to get things done in the later half of your day or week. Having your most important documents printed can help you avoid unwanted disruptions. If your computer malfunctions, or your internet is being slow that day, you won't have to put off your tasks. You'll have your documents printed, on-hand, and ready for you to work on.
5: Encourage Creativity
Creative team projects can be some of the most fun and meaningful tasks to work on. Each person brings something valuable to the project, and the end-product is always unique because of these contributions. 
Printers can keep teams working creatively in a hybrid office environment. There are several helpful new functions on printers such as direct document editing and cloud sharing. You can use these functions and more to collaborate on quality, colorful prints for your creative handouts and presentations.
Having the freedom to work as creatively as you like with your team can boost morale and create a sense of togetherness, even while working in different locations.  
Choosing the Best Home Office Printer
To stay connected to your team and boost your creativity, it's a good idea to have a home office printer. With the right device, you can meet each new goal as you work, reduce your downtime, and encourage productivity.
Our team of print experts can work closely with you to better understand your unique printing needs and match you with the perfect printer.
Looking to find the best home office printer for yourself or your team?


---