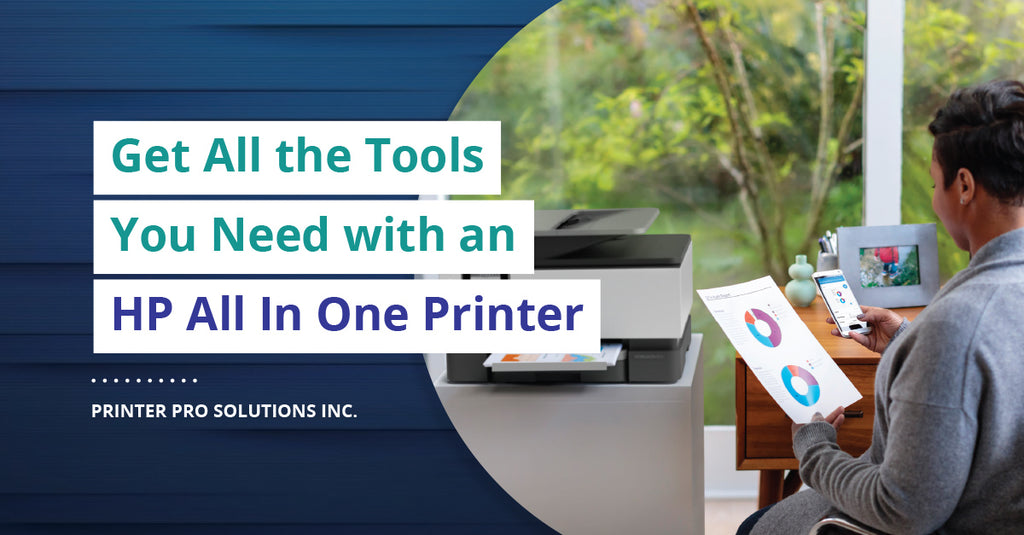 How to Choose the Best All In One Printer
Fri Oct 21, 2022 | Printer Pro Solutions
---
There are many reasons why you might be considering buying an all in one printer. These helpful devices serve more than one purpose, with functionalities like copying, scanning, and faxing all available to the end-user. Because of their many capabilities, all in one printers have become a popular choice among home office workers.
Employees and employers alike are finding that working from home has been more productive than they had anticipated. A survey found that 95% of 800 employers stated that work productivity had remained the same or increased since employees started working from home (SHRM).
Another study found that working from home helped double gains to 22% (

Standford Business

).
Working from home is proving to be a viable option in our global workforce, and many employees are seeking employment with companies that offer at minimum a hybrid work environment.
One thing that should be considered while making the change to a hybrid or work from home exclusive environment is how your home office fares. To ensure that you're being the most productive you can be, you'll need the right technology to support you. That includes choosing the best printer for your job.
All in one printers have several perks for home office workers. They're easy to use, manageable in size, and come with all the right functionalities. But with all the different printers out there, it can be hard to know what to look for.
So, how do you choose the best all in one printer for your home office?
Start With the Basics: Inkjet vs Laser Printers
There are several factors you'll have to consider initially when purchasing a printer. The first is whether you want an inkjet or laser printer. Both have all in one options, so it's not a matter of losing functionalities if you pick one or the
other. What it usually comes down to is what types of documents you'll be printing.
In a condensed overview of which to choose, we suggest that you pick a laser printer if you'll be printing mostly text documents or an inkjet printer if you'll be printing mostly color documents.
After choosing inkjet or laser, you'll want to consider your work needs. In some instances, for example, you'll want a printer for your home-office that's more cost-efficient, not minding if its speeds are a little slower. Others might want a faster printer, especially if their daily tasks rely heavily on printed documents or if several people will be using the printer.  
Other factors to consider include print speeds, cost per page, and reliability.

Fitting an All In One Printer in Your Home Office
All in one printers come in nice compact sizes that work great for a home office. Some people are put off by the idea of having a bulky printer in their home. But you don't have to worry! With the right device, you can save space without losing out on the functionalities you want.
Smaller devices take up less room in the office, while also avoiding needlessly long cables. You don't want to risk creating a tripping hazard in a small space. Small all in one printers' chords can easily be tucked away out of sight, and your office space will be kept nice and tidy.
Saving Money
Several employers are offering to cover some of the costs associated with home offices. This can include a budget for technology. You'll want to find a home office printer that won't exceed your limit to avoid paying more out of pocket. All in one printers are a great choice, as they can save you money in the long run.
Choosing an all in one printer means you get all the functionalities of several devices in one. You won't have to worry about buying a second device, or a third, or a fourth for that matter. You'll have everything you need at the push of a button.
Functionalities you can get with an all in one printer include:
Printing

Copying

Scanning

Faxing

Duplex Printing

Automatic Stapling

Cloud Printing

Wifi/Network

AirPrint
All in one printers will also cost you less per year than a larger printer on things like power and ink/toner replacements. These are often overlooked when buying a printer. Buying the device means automatically factoring in the cost of the machine, but you probably aren't thinking about all the other stuff at the time. It's only later when you notice increases in your power bill or realize the cost of a replacement cartridge is more than the printer itself that you'll realize your mistake. What we recommend is doing your research ahead of time.
Power Costs
Of all the overlooked costs, power is probably at the top of the list. In the back of our minds, we all know that a printer needs ink/toner and paper. We also know that they need power. But what we don't consider is how much power and how costly it can be.
Office printers can use a ton of watts when printing. The bigger the printer, the more power it will take to operate it, and the higher your costs. All in one printers built for home offices will save you money on power costs. Unlike a larger office printer, which can require 300 to 1000 watts (Free Printer Support), you're looking at using about 30 to 550 watts (Free Printer Support).
The smaller your device, the less power it will need to run, saving you money throughout the year.  
Ink & Toner Costs

The cost of your ink/toner replacements will depend on the device you've purchased. There's no exact estimate for it, except to say that some replacements are expensive. We advise being extra cautious if you see a printer with an extremely low-price tag. An all in one printer that costs, for example, only $50 for the device could mean the company will recuperate on "loses" with expensive cartridges.
The best thing to do is pick an all in one printer that's mid-range on your budget scale. This will ensure the device meets your needs without exceeding what you can afford, while avoiding unexpected cartridge costs later.
To save even more, you may want to consider a laser printer. Costs of toner tend to be more, but the cartridge will last you longer than ink. Don't feel discouraged though if you still want an inkjet printer. Many companies now offer super tank options that hold more ink than other available ink cartridges.
Get A Secure All In One Printer With HP
One of the best brands for printers is HP. They have several options with all the functionalities you could need for your home office. What's more, their devices are some of the most secure and trusted out there. HP printers come with several security features, including the ability to "self-heal" by keeping a golden copy of the BIOS and automatically resetting the printer if it detects suspicious activity at start-up.


Our Featured Devices:
HP's Color LaserJet Managed Flow E78323z
This device can print professional, quality color documents at a budget price. This device can be upgraded with modular accessories to match the requirements of your job. This device comes with all the security features you could hope for to protect your personal data. HP's Sure Start will scan through your operating system to review for any threats. The E78323z will repair itself from attempted hacks, keeping cybercriminals from stealing your information.
HP's Color LaserJet Managed E78323dn
This device can have up to 250 pages loaded into its tray for fast scanning and printing. If you have edits to your documents, you can complete them quickly by using the pull-out keyboard. As with other HP devices, the E78323dn is a secure choice with Whitelisting properties that check all code on startup to ensure it's digitally signed by HP. 




Need Help Deciding?
Still feeling overwhelmed about finding a printer?
Our team of print specialists can help! We also know that right now it can be difficult to get hardware because of budget constraints––so, we've created a program that can help! We offer customers the chance to buy recertified and refurbished printers at affordable prices. These devices are in like-new condition with all the functionalities you're looking for in a new device.
We want to help keep your home office running in tip-top shape. Getting an all in one printer can make all the difference in your day-to-day work. We can help you with that.
Want to learn more about our available all in one printers?

Contact Us
---